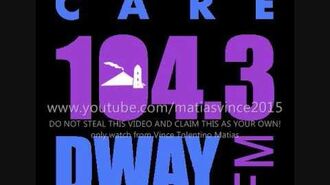 Care 104.3 DWAY: The Way FM, is now signing off
Care 104.3, DWAY-FM, is a non-commercial radio station, of Far East Broadcasting Company Philippines, with permission, from the National Telecommunications Commission, with license number, BSD-0026-2015
Care 104.3, DWAY: The Way FM, has the strength, of 5 kilowatts
Our studios and transmitter, are maintained and operated, by the personnel of the Far East Broadcasting Company Philippines, with the permission, from the National Telecommunications Commission
Chief Engineer:
Rex Capuno, with license number 0044414
Radio Operator:
Ramon Diaz, with license number 011 P-V 25454
& Radio Operator:
Alfonso Apinado Jr., with license number 15 1PV 26804
If you have questions, reactions or comments, you may contact us, through our website, at dway.febc.ph
Our Facebook page, is "CARE 104.3 The WAY FM"
Our mailing address, is "Care 104.3 DWAY-FM, P.O. Box 253, Arimbay, Legazpi City, zip code 4500"
Our e-mail address, is "info@dway.febc.ph"
You can also text us, at "0946-763-9858" or "0927-495-3770"
Or you may call us, at area code 052, number, 482-0460
Here now is the Philippine National Anthem
Ad blocker interference detected!
Wikia is a free-to-use site that makes money from advertising. We have a modified experience for viewers using ad blockers

Wikia is not accessible if you've made further modifications. Remove the custom ad blocker rule(s) and the page will load as expected.