2012-2015 (voiced by Bryan Quitoriano a.k.a "Idol T-Bowne")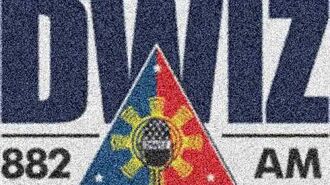 You have been listening to DWIZ 882 kHz, a commercial radio station owned and operated by Aliw Broadcasting Corporation. Authorized by the National Telecommunications Commission with station license number BSD-0039-2012-0615. Issued on May 18, 2012, to expire on December 31, 2015.
DWIZ 882 kHz operates with the power of 50,000 watts.
Our studios and transmitter are located at the Brgy. Oranbo, Pasig City and Brgy. Pag-asa, Obando, Bulacan.
DWIZ 882kHz is maintained and operating by the following first-class radio telephone operators duly licensed by the National Telecommunications Commission.
Engr. Eric Taruc: with License No. 4502
Jerry S. Matilan: License No. 01-1PNCR-25425
Engr. Benjamin Dacanay, Jr.: License No. 23028
Engr. Raul Guerrero: License No. 43999
Donald Peña Fer: License No. 93-1P3-7334
Edmond _____ _____: License No. 98-1PNCR-21252
Engr: Jose Mari De Guzman: License No. 43051
Dennis Balle: License No: 2K-1PNCR-25089
Fred Rick Dela ______: License No. 97-1PNCR-20131
Rolando Baldonado, Jr.: License No. 94-1PNCR-9996
and _____ ________: License No. 01-1PHN-25494
DWIZ 882 kHz is now signing on/off.
Ladies and Gentlemen, the Philippine National Anthem.
2013-Present
They don't go off the air and broadcast 24 hours a day, 7 days a week.
Ad blocker interference detected!
Wikia is a free-to-use site that makes money from advertising. We have a modified experience for viewers using ad blockers

Wikia is not accessible if you've made further modifications. Remove the custom ad blocker rule(s) and the page will load as expected.