2012-present
Edit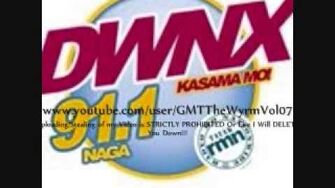 We begin/now conclude another day of our broadcasting activities.
This is DWNX-FM, a commercial radio station owned and operated by Radio Mindanao Network, Inc., as authorized by the National Telecommunications Commission with license number BSD-0269-2006, dated January 8, 2011 to expire on January 9, 2012.
DWNX-FM operates from 4 o'clock in the morning to 11:00 in the evening on 91.1 MHz with a power of 10,000 watts, or an ERP of 32,000 watts.
Our studios and transmitters are located at the 2/F of Ramaida Centrum, cor. Elias Angeles and Dimasalang Sts., Naga City.
DWNX-FM is maintained and operated by DWNX personnel duly licensed by the Professional Regulations Commission and National Telecommunications Commission.
Electronics and Communications Engineer:
First Class Radio Telephone Operators:
Elmer Gonzaga, with license number 95-1PV-15432
Jose Landong, with license number 96-1PV-15921
Reynaldo Gomez, with license number 94-1PV-11185
Radyo Mo Nationwide 91.1 DWNX-FM is now signing on/off.
Ladies and Gentlemen, the Philippine National Anthem.