2006-2011 (DZXQ 1350)
Edit
2012-2013 (DWUN UNTV Radio La Verdad 1350) (Voiced by Victor Cosare)
Edit
2014-January 8, 2017 (DWUN Radyo La Verdad 1350) (Voiced by Victor Cosare)
Edit
Filipino Version (original)
Edit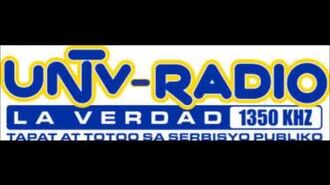 Ito ang himpilang DWUN, UNTV Radio La Verdad 1350 sa AM band
Ang Radyo La Verdad ay isang commercial broadcast station na sumasahimpapawid sa lakas na sampung (10) kilowatt, na may permit bilang BSD-0586-2013 (MOD) at may bisa hanggang December 31, 2015
Ang Radyo La Verdad transmitter ay matatagpuan sa Barrio Muzon, Malabon City
Ang UNTV Radio La Verdad 1350 ay nasa pangangasiwa at pangangalagang teknikal ng mga sumusunod na Electronics and Communications Engineer at NTC First Class Radio Telephone Operator na sina
Engr. Adrian P. Isip, na may ECE License No. 54469
at Rolando M. Sumayo, First Class Radio Telephone Operator, na may NTC License No. 11-1PHN-26460
(Sign On) Ang UNTV Radio La Verdad 1350 ay opisyal nang magsasahimpapawid sa araw na ito + Magandang umaga po sa inyong lahat
(Sign Off) Ang Radyo La Verdad 1350 ay pansamantalang magwawakas ng pagsasahimpapawid + Magandang umaga + Mga makabayan, ang pambansang awit ng Pilipinas
January 9, 2017 [Current/Present] (DWUN Radyo La Verdad 1350) (Voiced by Victor Cosare)Edit
Ito ang himpilang DWUN, UNTV Radio La Verdad 1350 sa AM band
Ang Radyo La Verdad ay isang commercial broadcast station na sumasahimpapawid sa lakas na 50-kilowatt, na may permit bilang BSD-0590-2017 (MOD), at may bisa hanggang December 31, '18
Ang Radyo La Verdad transmitter ay matatagpuan sa Barrio Muzon, Malabon City
Ang UNTV Radio La Verdad 1350 ay nasa pangangasiwa at pangangalagang teknikal ng mga sumusunod na Electronics and Communications Engineer at NTC First Class Radio Telephone Operator na sina
Engr. Adrian P. Isip, na may ECE License No. 54469
at Rolando M. Sumayo, First Class Radio Telephone Operator, na may NTC License No. 11-1PHN-26460
(Sign On) Ang UNTV Radio La Verdad 1350 ay opisyal nang magsasahimpapawid sa araw na ito "Magandang umaga po sa inyong lahat"
(Sign Off) Ang Radyo La Verdad 1350 ay pansamantalang magwawakas ng pagsasahimpapawid "Magandang umaga" "Mga makabayan, ang pambansang awit ng Pilipinas"
They don't go off the air and broadcast 24 hours a day, 7 days a week. Every Monday at midnight sign off until sign on at 4AM, except Holy Week from Maundy Thursday at midnight sign off to Black Saturday sign on at 4AM.
Ad blocker interference detected!
Wikia is a free-to-use site that makes money from advertising. We have a modified experience for viewers using ad blockers

Wikia is not accessible if you've made further modifications. Remove the custom ad blocker rule(s) and the page will load as expected.