1986-1993
Edit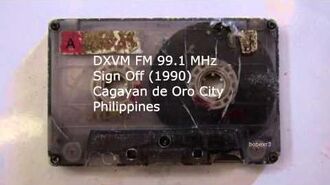 Ladies and Gentlemen, we begin/now conclude another day of broadcasting activities.
This is radio station DXVM FM, a commerical radio station owned and operated by Radio Mindanao Network, Inc.
As authorized by the National Telecommunications Commission.
DXVM FM operates daily from 5:00 am to 12 midnight on 99.1 mHz with the power of 5,000 watts.
Our studios and transmitter are located at the corner of Tiano-Velez Streets, Cagayan de Oro City.
DXVM FM is operated and maintained by the following personnel duly licensed by the National Telecommunications Commission.
Electronics and Communication Enginner: Alfredo Ordonia
First Class Radio Telephone Operators
(Sign-on) DXVM is now signing on.
(Sign-off) Ladies and Gentlemen, the Philippine National Anthem.
1993-2002
Edit
This part of this article lacks a former station notice. You can help Signons and Signoffs Wiki by removing this message and add a station notice here.
2002 - present
Edit
No station notice / message. Only Prayer and the National Anthem.