2015-present
Edit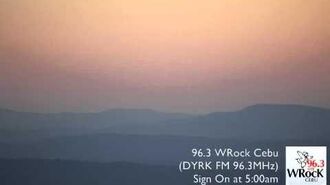 (Sign on) Good morning, This is 96.3 WRock Cebu.
(Sign off) You've been listening to 96.3 WRock Cebu.
Owned and operated by the Exodus Broadcasting Company, Inc., duly authorized by the National Telecommunications Commission with the power of 10,000 watts, licensed to operate 24 hours.
96.3 WRocK Cebu is DYRK 96.3 mHz on frequency modulation.
Animating from the top of Golden Peak Hotel and Suites, Gorordo Ave., cor. Escario St., Cebu City, with studios located at the 20th Floor of Golden Peak Hotel.
96.3 WRocK is duly maintained and operated by the following first-class radio-telephone operators.
96.3 WrocK Cebu is now signing on/off.