Film4 is a British television channel owned and operated by Channel Four Television Corporation in the UK. It shows mainstream and indie movies. Prior to July 23, 2006, Film4 was operated as a 24-hour pay TV movie channel.
Like most and other digital terrestrial television channels in the UK, Film4 usually signs off at around 3:30/3:50AM and signs on at around 11AM (12NN on its timeshift channel). On some hours during the sign-off period and like some channels in the UK (with the exception of channels from the BBC), it airs infomercials as well.
July 23, 2006-September 2, 2014
Edit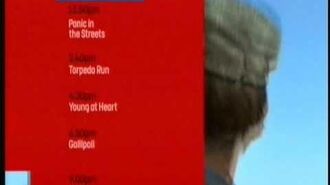 There's no station notice nor national anthem, which is straightforward. However, a sting based on the channel can be seen.
Sign-off
Edit
Just like the sign-on, there's no station notice nor national anthem. Instead, it goes to this message,
FILM4: RETURNS AT 11AM
FILM4+1: RETURNS AT 12NN
September 2, 2014-present
Edit
There's no station notice nor the national anthem shown. Only the message "WELCOME" is shown.
Sign-off
Edit
Like the 2006 era, it uses the similar style, except the graphics are heavily changed to match the current branding. A new music created by Kelpe, specifically made for this channel, is added.
Ad blocker interference detected!
Wikia is a free-to-use site that makes money from advertising. We have a modified experience for viewers using ad blockers

Wikia is not accessible if you've made further modifications. Remove the custom ad blocker rule(s) and the page will load as expected.