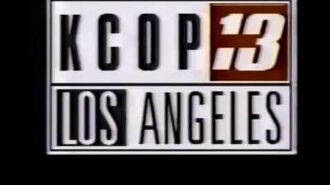 This is KCOP Channel 13 Los Angeles. Owned and operated by Chris-Craft Industries Inc., with Studios in Hollywood and Transmitter atop Mount Willson. Some programmes seen on KCOP are reproduced by means of Videotape and film. Join us when we return to the air at 5:30 this morning, for another full day of television programming for your enjoyment.
(After that the Iwo Jima SSB film, replaced in 1991 by the SSB film with U.S. Army.
Ad blocker interference detected!
Wikia is a free-to-use site that makes money from advertising. We have a modified experience for viewers using ad blockers

Wikia is not accessible if you've made further modifications. Remove the custom ad blocker rule(s) and the page will load as expected.