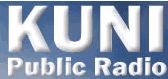 The KUNI transmitter is located south of Waterloo, IA, near the intersection of Shaulis RD. & Ansborough Ave.
KUNI utilizes studio-to-transmitter link WBY-21, operating on a frequency of 948 MHz.
The Federal Communications Commission has granted KUNI special temporary authority, to broadcast on a frequency of 90.9 MHz with an effective radiated power of 82,000 watts, from a height of 357 feet above ground.
KUNI is a non-commercial, educational FM station owned and operated by the University of Northern Iowa.
Tune us in for our next broadcast day at 7:00 tomorrow morning. This is Jeff Zweig speaking; good morning/night.
Ad blocker interference detected!
Wikia is a free-to-use site that makes money from advertising. We have a modified experience for viewers using ad blockers

Wikia is not accessible if you've made further modifications. Remove the custom ad blocker rule(s) and the page will load as expected.