????-present
Edit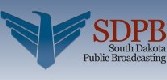 KUSD-FM is a non-commercial, frequency-modulated radio station operating at 89.7 MHz, with an effective radiated power of 50,000 watts horizontal, and 21,000 watts vertical polarization.
The KUSD-FM transmitter and antenna are located 2 miles south of Beresford, SD; utilizing studio-to-transmitter link KBF-20.
KUSD-FM is authorized to broadcast by the Federal Communications Commission in Washington, DC, and is owned by the University of South Dakota as a non-commercial, public radio service.
Join us tomorrow for another day of public radio broadcasting.
Ad blocker interference detected!
Wikia is a free-to-use site that makes money from advertising. We have a modified experience for viewers using ad blockers

Wikia is not accessible if you've made further modifications. Remove the custom ad blocker rule(s) and the page will load as expected.