WTVS now returns to the air/leaves the air for technical maintenance. (the last three words were optional)
Our next scheduled program: 6 AM, thank you for watching WTVS Channel 56.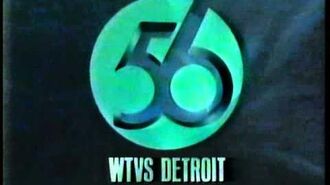 This is WTVS Detroit 56. WTVS is owned and operated by the Detroit Educational Television Foundation.
Administrative offices and main studios are located at 7441 2nd Boulevard in Detroit, Michigan, postal code 48202. Transmitting facilities are located at 26945 West 11 Mile Road, between Telegraph and Inkster Roads in Southfield, Michigan.
WTVS operates on channel 56, which in turn operates on carrier frequency of 723.25 mHz visual, and 727.75 mHz aural.
WTVS is licensed to operate on channel 56, with an effective radiated power of a 1,550,000 watts peak visual, and 155,000 watts peak aural.
Our transmitter output power is licensed at 110,000 watts peak visual and 11,000 watts peak aural.
WTVS is licensed to broadcast on these frequencies and at these powers by the Federal Communications Commission, 1919 M Street NW, Washington D.C., 20554
WTVS is also licensed to operate auxiliary broadcast services, among them are:
Domestic fixed satellite earth station WS-67
TV intercity relays supporting the satellite earth station, WGV-694, WGV-695, WCX-624 and WCX-625
TV intercity relays from East Lansing, Michigan, WHS-508, WHS-509, WHQ-435
Studio to transmitter link KQI-20
Detroit Board of Education studio to WTVS studio KNZ-62, and
Auxiliary to instructional television fixed service WHH-843