1970s-80s
Edit
This is WVEC Television channel 13, with studios in Norfolk and Hampton, Virginia, and transmitter located on route 337 Suffolk, Virginia, now concluding our telecast day. WVEC Television operates under the authority of the Federal Communications Commission, with an effective radiated power of 316,000 watts video, and 31,600 watts audio. A complete listing of WVEC television programs is printed daily in the following papers:
The Norfolk Ledger Star and Virginian Pilot
The Suffolk News Herald
The Peninsula Daily Press and Times Herald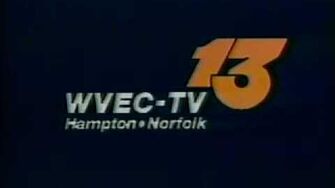 The Virginia Beach Sun
The Richmond Times Dispatch and News Leader
and the Raliegh Observer.
We hope that you will join us again this morning at X:XX, when we will begin our telecasting day. On behalf of the staff and management of WVEC Television, a very pleasant good night and good morning.
WVEC-TV now concludes another day of broadcasting. WVEC Television, Inc. is a wholly owned subsidiary of the A.H. Belo Corporation. Our studios are located at 613 Willis Avenue in Norfolk, with transmitting facilities in Suffolk.
We invite you to join us again tomorrow for another day of entertainment, news and Hampton Roads community interest programming. The management and staff of WVEC-TV wish each of you a pleasant evening.